Give the Gift of Adventure
Give the gift of adventure to young adults impacted by cancer and MS, healthcare workers, and caregivers.
GIVE TODAY
Inquire Now! 2023 Programs are Coming Soon!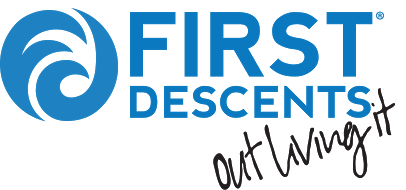 Julie Wright
Julie was born outside of Chicago and raised in Southern California from the age of 4.  She received her bachelor's in business from Cal Poly San Luis Obispo. Julie interned with PricewaterhouseCoopers the summer of her junior year and took a full-time position with PwC in San Francisco after graduation. There she met her husband Ben and spent 2 ½ long years in public accounting before realizing her passion was people. Julie switched gears and pursued a sales career in the pharmaceutical and biotech industry. She was introduced to First Descents after joining Genentech in 2012. Julie learned more about the healing power of adventure through Genentech's strategic partnership with FD. Coincidently, a couple years later Julie's husband Ben met the First Descents team. Ben's newly founded company, Velocity Global, was officing next door to FD in Denver. Ben had the opportunity to volunteer at a couple of programs as well as participate in Ragnar and other fundraising efforts.
In 2016, Julie left the oncology space within Genentech to launch their new monoclonal antibody for the treatment of multiple sclerosis. In the first year of learning about this disease state coupled with her personal experience with friends who suffer from MS, a roundtable conversation began. What if First Descents was able to offer programming for disease states besides cancer? Velocity Global was looking for ways to give back to the community and offered to fund the first round of programming for patients with multiple sclerosis. Julie left Genentech in 2018 to pursue her own endeavors within Velocity Global including philanthropy efforts. She is excited to be a part of the First Descents organization and to continue advising on new programming for young adults living with multiple sclerosis.